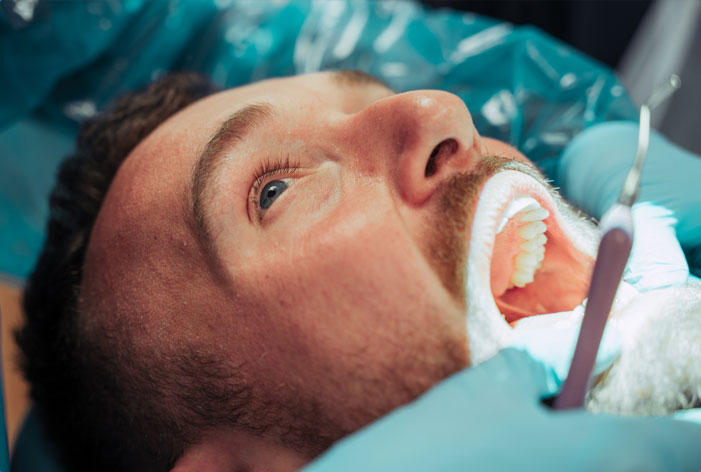 Dental Bridges in Riverside
Tropic Dental Care
…. where your smile is our smile
Dental Bridges in Riverside
When you are missing teeth, even some of the simplest tasks can change, becoming more difficult or challenging. Chewing & eating, speaking, and of course smiling can all see a negative impact when you have lost teeth due to decay, injury, or extraction. That is why Tropic Dental Care is proud to offer patients dental bridges in Riverside as a way to rebuild their smiles and take back some control over their lives.
Benefits of Dental Bridges
Replace one or more teeth with ease
Every set is customized to match your natural teeth's appearances
Improve ability to chew and speak
Help prevent remaining teeth from shifting
Long-lasting solution when cared for properly
Dental bridges provide an efficient and practical way to replace one or more missing teeth to restore your smile. Each bridge is fully customized, being individually made in our laboratory to provide a natural look and feel for your teeth replacements. They work by literally bridging the gaps between your remaining teeth. Either end of a bridge rests upon and is affixed to remaining teeth that have been prepared to hold the bridge.
When done right and with proper care, dental bridges can last patients for at least five years, with many seeing their bridges stay in good shape up to a full decade or more. But care and attentiveness will be key to keeping this tooth replacement option in working order. Maintaining dental bridges is rather straightforward and comes with very few restrictions to your diet. It mostly comes down to routine dental care and being careful when chewing hard foods.
If you have found yourself struggling with tooth loss, then Tropic Dental Care may have a solution for you. Contact us today to learn more about how we can give you back a full and beautiful smile as soon as possible.
What Is the Process Like?
Most patients will be able to get their bridges with only a couple of visits to Tropic Dental Care. We start with an exam of your teeth and a discussion with you to explore all your available tooth replacement options. If you decide on bridges, we can get started by preparing the surrounding teeth to hold the bridge in place. The extent of this stage depends on the state of your teeth, and can range from mildly shaping a tooth to removing a severely damaged one to make space for the bridge. In the meantime, our laboratory will be making you your custom dental bridges according to the impressions we take of your teeth, ensuring they look like a natural fit in your smile. Once the bridge is fabricated and ready, you can come in for its placement, which can take about an hour, depending on your treatment plan.
Is a Dental Bridge Right for Me?
Choosing dental bridges to restore your smile can be one of the best decisions for many patients. Living with even a single missing tooth can not only pose challenges for feeling confident in your smile but can have effects on your quality of life overall. Bridges are best for patients who want a durable solution but may need more than one tooth replaced or are not ready for dental implants. Since bridges are highly adaptable, they are a great option for a wider range of patients with a range of situations. Maybe you are missing two teeth in a row but your either teeth are damaged too? Bridges could work. Or maybe the rest of your teeth are perfect, but only one is missing. A bridge could still help you out.
For patients who need to replace entire rows of teeth, we may recommend dentures instead to give you the results you need. Additionally, for patients who want to replace only a single or a few teeth, we may recommend dental implants if you have enough jawbone mass. In every case, your dentist at Tropic Dental Care will work closely with you to find your ideal solution to get your smile looking and feeling great.
Emergency Room or Emergency Dentist
Do not let lost teeth get in the way of having a full and brilliant smile! With dental bridges, you can get your smile back into great shape and restore function at the same time. We believe that every patient deserves a smile they love sharing with those around them. That's why Tropic Dental Care, dentist Riverside, is here to help you get started on your personalized dental bridges in Riverside as soon as possible. Call us or use our online form to schedule your appointment for a tooth replacement evaluation today and take the first step toward getting your smile back to 100%.
Schedule Your Appointment Today